Great wreck diving with Odyssey adventure liveaboard in Truk lagoon.
There are 3 liveaboard in Truk lagoon where is known for world's best wreck diving destination. I have joined the Odyssey adventures which has a good reputation.
Dive Truk Lagoon with Odyssey Adventures
Liveaboard Odyssey in Truk lagoon introduction footage
This is Odyssey introduction footage. Let's watch it first.
Footage of wreck diving with Odyssey
This wreck diving footage is taken during tour with Odyssey.
Tour schedule, Rate, Offers of Odyssey liveaboard
Tour schedule
Basically, tour schedule is Saturday to next Saturday, minimum is 7 night 8 days in Truk lagoon. Odyssey is popular liveaboard, you should ask available schedule before planning.
Rate, Price
$3.395+5%tax, per person
It's double occupancy rate, not guaranteed single room.
What's included
Accommodation. All meals and snacks. All beverages including beer, wine, whisky, coke, sprite, coffee etc. Up to 30% NITROX. Single tank and weight. Diving including sunset, night dive. Airport pickup and dropoff.
What's not included
Flight ticket. Chuuk state diving permit $50. Chuuk state departure tax $30. Rental gear. Over 30% Nitrox and so is TRIMIX.
Diving with Odyssey in Truk lagoon
In usually, all dives are wreck diving. 3 or 4 dives per day, night dive is also available. It depends on wreck ship and depth. Surface time is unhurried, I took 2 or 3 hours.
When I joined Odyssey, there were 8 guests from US and Australia. 1 guest dived solo by rebreather, other guests were dived by single tank, not technical diver. I have dived 19 dives with Odyssey.
Odyssey has 3 Divemaster. 2 from Chuuk, 2 from US. All of them are experienced, knowledgeable, so they are so reliable. If you want, they are offer guide dive. They will show you much interesting stuff and scene.
From Odyssey to wreck ship, there is guide rope which you can follow to descent and ascent.
Deco bar at 5m depth is comfortable to safety stop and deco stop. Extra air is also set.
Sunset dive and night dive are available depend on schedule and wreck ship without additional fee.
Inboard introduction
Odyssey has 2 single rooms, 7 twin rooms, maximum 16 guests, and convenient dive deck, camera table, cozy dining area. I have felt better quality than any hotel and restaurant on land in Truk lagoon.
Internet, Wi-Fi
You can connect Wi-Fi on every floor but it's slow and unstable. This connection is using local telecommunication company's 3G internet. That's why no internet when away from a main island.
Staterooms
Hallway to staterooms. There is twin room on both sides.
Twin room. In this picture, it's king size but it's able to separate to twin bed. In my time, number of rooms and guests it just same, each guest used each room as single occupancy.
Individual and private AC, shower, sink and security box, shelf, hair dryer. It was more comfortable than a usual hotel.
Shower is the best in Truk lagoon. Water pressure and temperature are satisfying.
Single room
Same function as twin room.
Shower on Single room
Toiletry, Room amenities. Hand soap, soap, shampoo, conditioner, body lotion.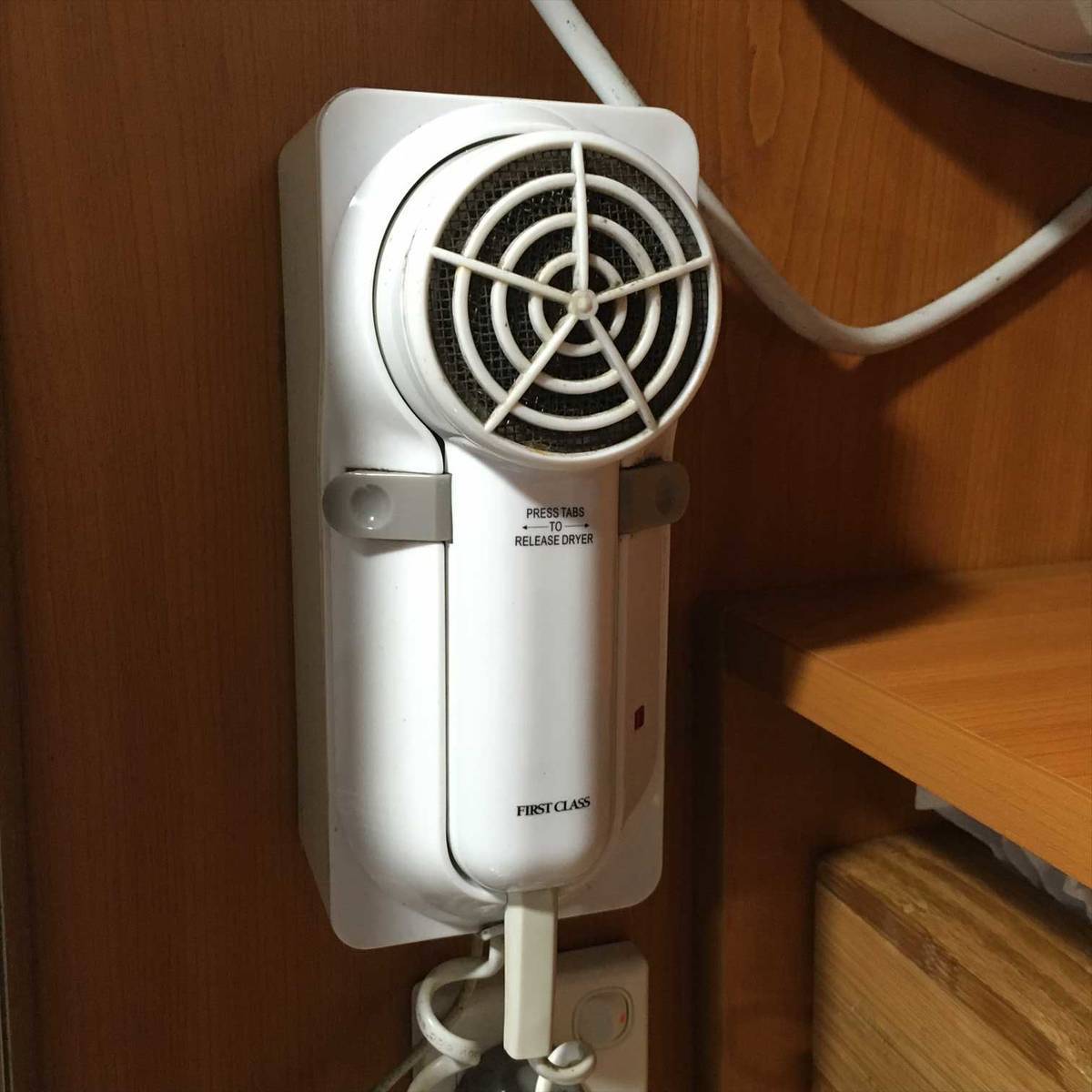 Hair dryer is normal one for a usual hotel. Tissue paper and alarm clock are also on a shelf. Towels are changed every morning.
They offer an onboard entertainment on room TV.
Here is ton of music.
You can enjoy watching movie over 700 titles.
Each room has an electric outlet which is 110/120V, American type and Australian type.
Dining area, Bar
Cozy dining area for meal and diving briefing.
Blue sky and beautiful ocean scene through widely window is nice.
In the night, also good atmosphere.
Bar counter
You can drink all of beverages including beer, wine, whisky, coke, sprite, every time.
Also available coffee, tea bag, cocoa.
Many books about history of Truk lagoon, Wreck diving etc, is on the table.
Also precious documents is letter copies of communication between Mr.Mizutani who is a surviver from Shinkoku maru and US research diver in the 1970s.
Dive deck
The important point for the diver. It's widely, very convenient.
Camera table. Here is an air duster for remove water droplet from your camera.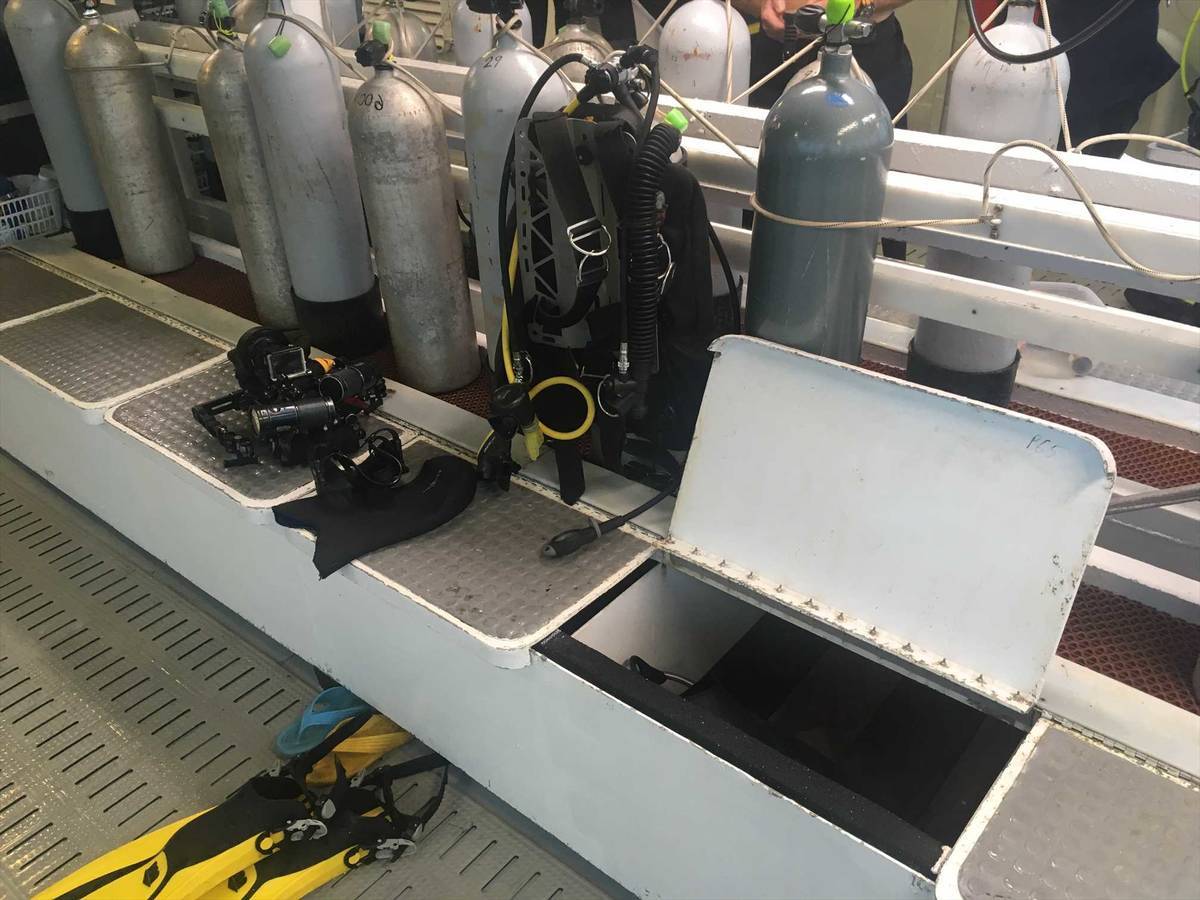 Each diver can use gear locker under the seat.
Wetsuit hang space
Rinse tanks for camera and gear are on both sides.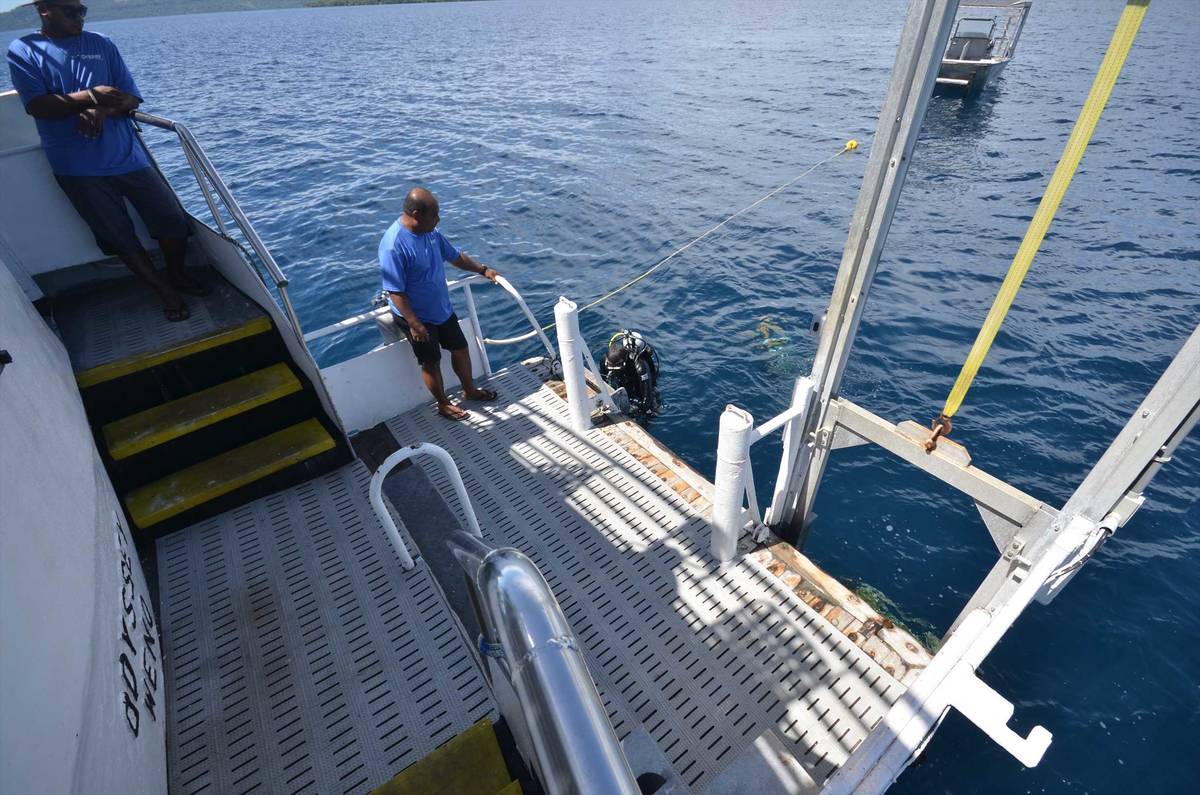 In usual, Odyssey mother ship move to wreck diving point and entry from dive deck. All staff is helpful every time to entry and exit. When you exit, you can use ladder or in water elevator.
I have never used in water elevator, so I used it every time. It was fun! This in water elevator is very helpful for rebreather or double tanks like a heavy gear.
Deck shower
Towels on a dive deck
Sundeck
Sundeck is upper the dive deck
Smoking area is only sundeck
Entertainment lounge, Goods
Entertainment lounge is located central of deck floor.
Battery charge space.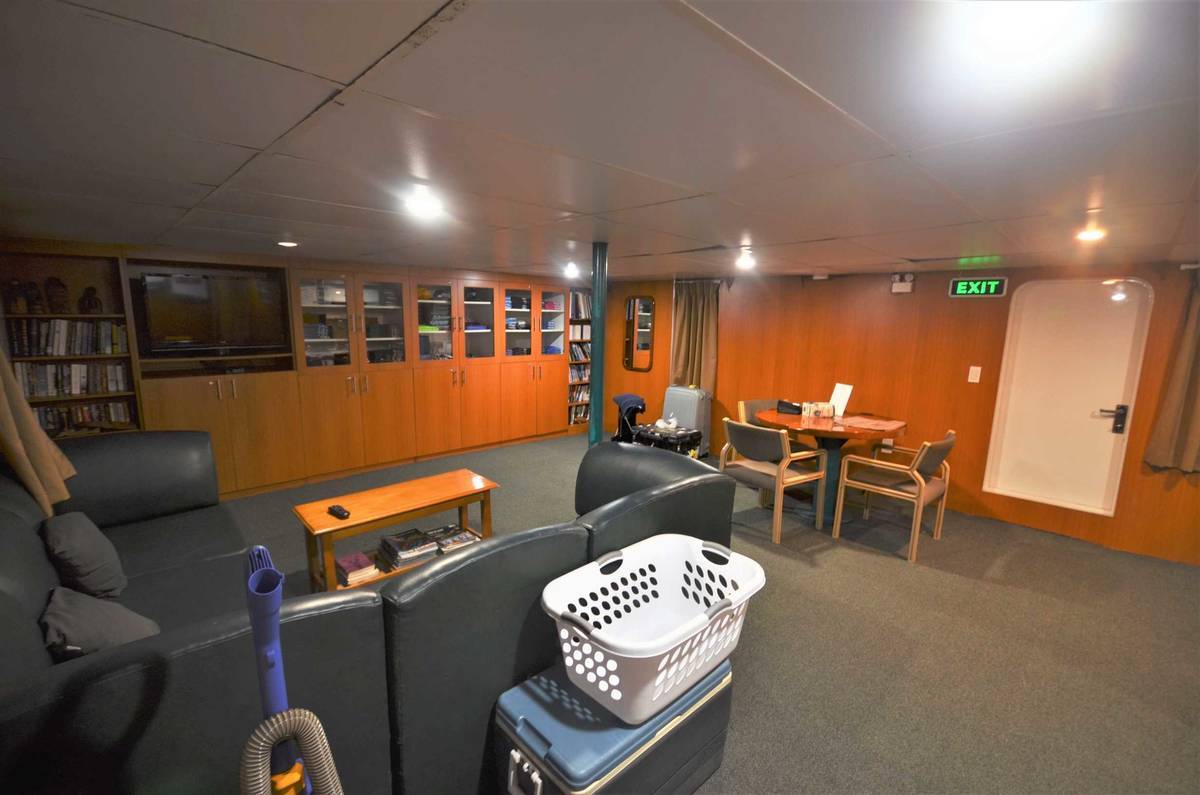 Here is also Odyssey's goods boutique.
Rash guards, Polo shirts, T-shirts, Baseball hats
Back print design of T-shirts. It is said that Japanese navy flag and wreck design T-shirt and San Francisco maru design T-shirt are popular.
Odyssey's logo sticker, Patch.
T-shirt is $25, Polo shirt is $50, Sticker is $0.75. Cash and credit cards are available to pay.
Deck, other facility
View from bow side.
Compressor space
Wheel house. If you want to see, you can ask captain.
Odyssey was renovated from former ship named Marie-Anda from Fiji in 1978. This plaque is on wheel house.
Meals
Breakfast is from 6:30. Lunch is from around 12:00. Dinner is from around 18:00. Between each meal, they serve some snacks too. Every meal are delicious and different menu. I surprised these good meals because here is remote islands and onboard!
In breakfast, menu is eggs to order, French toast, waffles etc.
You can order omelet, scramble egg with bacon, ham, cheese and so on.
In the back side of breakfast menu, here is local Chuukese language list.
Serial and some bread is also prepared.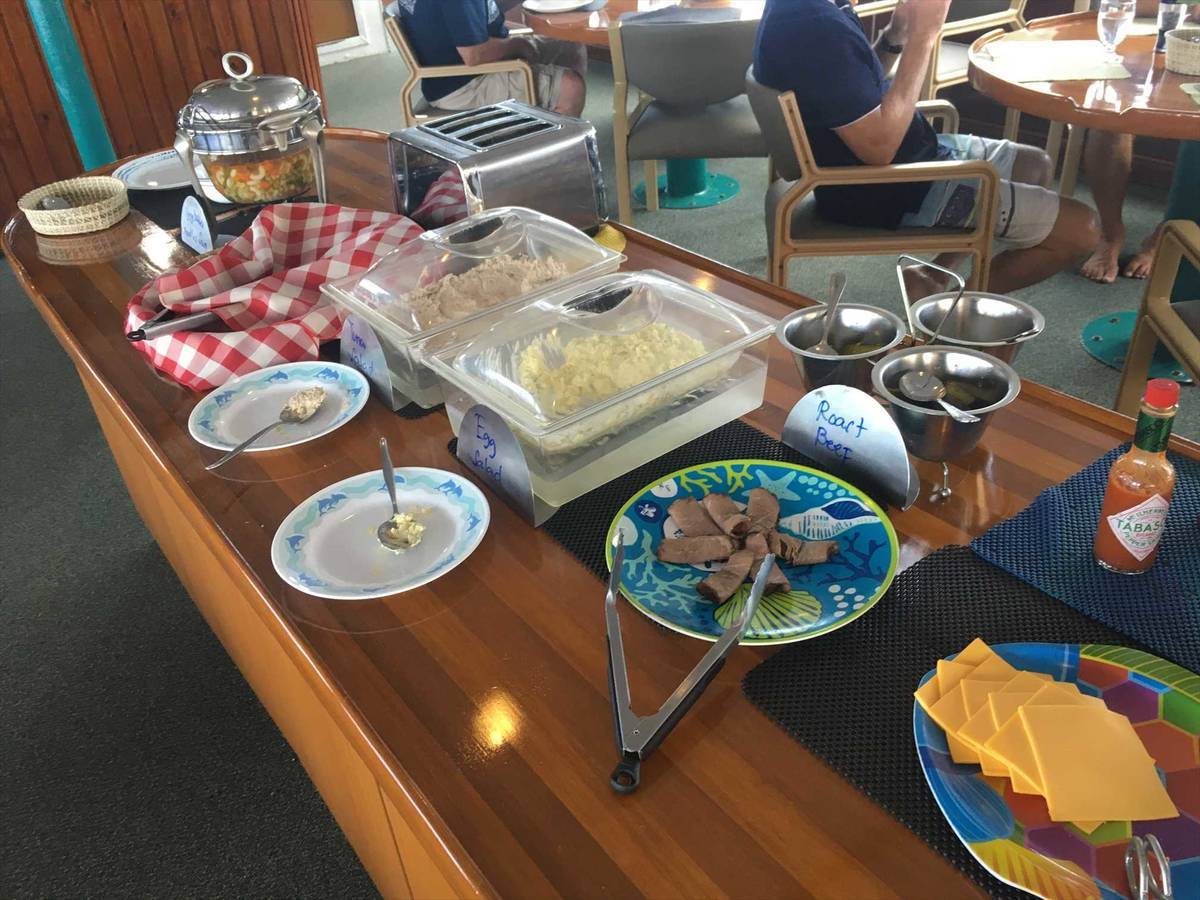 In lunch, I have enjoyed variety menu like a sandwich, hamburger, quiche, spring roll. I had not gotten bored.
I'm happy to have a salad every meal. Some restaurants in Truk lagoon, they sometimes don't have a salad on their menu.
Between each meal, some snacks like a fruit, cake are prepared.
Dinner is chicken, steak, pizza, curry, lobster etc. Every dinner was great too.
Every dinner with salad, of course!
The day of steak or hamburger dinner, it was grilled on BBQ stove on the sundeck. It made me hungry when I exited from sunset dive.
Don't forget a dessert! Cakes, ice cream and some deserts are served after every lunch and dinner
A typical diving day
Everyday is special and exciting on Odyssey. A typical diving day is like a below.
6:30 Breakfast
7:30 1st dive
10:30 2nd dive
12:00 Lunch
13:30 3rd dive
17:00 4th dive(or night dive after dinner)
18:30 Dinner
Every diving is requested yourself and the other guest. You can dive on your pace.
Diving briefing
At first, we watch a documentary video of each wreck ship. It shows basic info, history, highlight etc. Captain and guides are very knowledgeable about wreck ship in Truk lagoon. They know everything.
Captain Mike is also professional underwater photographer. Many beautiful photos and videos have been uploaded on his website.
Welcome :: Evolution Underwater Imaging by Mike Gerken
Then, we have a diving briefing with briefing board.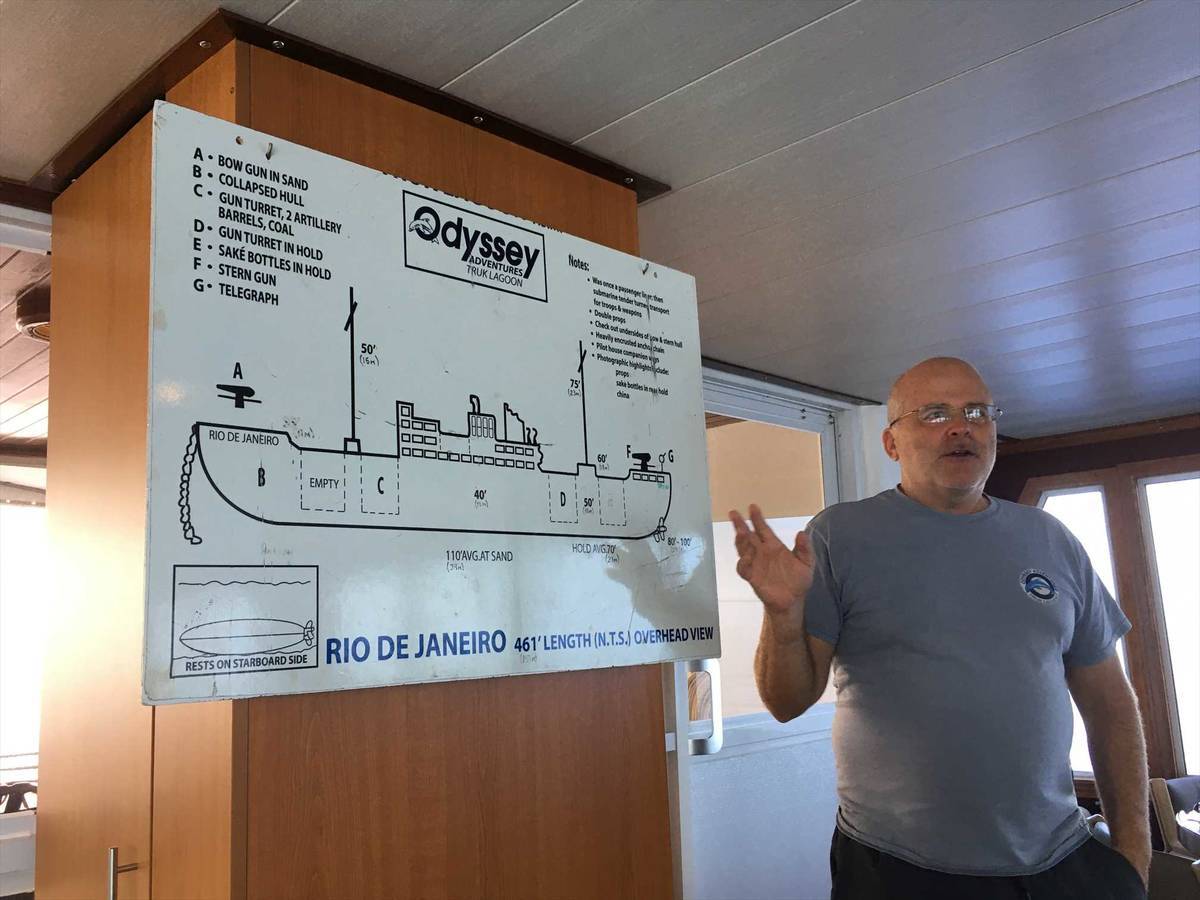 They explain us detailed information. Where Odyssey is mooring, depth, highlight from bow to stern, function of each artificial. In addition, they mention danger area.
Briefing board of each wreck ship. If you have specific request, you can ask guide and buddy.
Wreck diving week with Odyssey
This is my diving review with Odyssey just for your future reference because It very depends on a weather situation and request from guest. These are wreck ship I went, altogether 19 dives.
1st day:Seiko maru, Fujikawa maru
2nd day:Hoki maru, Yamagiri maru
3rd day:Fumitsuki, Shinkoku maru
4th day:Nippo maru, Heian maru
5th day:Amagisan maru, Gosei maru, Rio de janeiro maru
6th day:San rancisco maru, Kensho maru
Saturday (Embark day)
Went to Blue lagoon resort from airport with airport pickup in the evening. Then, transfered to Odyssey mother ship by small boat. After embarking, we have short briefing for safety and how to use each onboard facility. All guest are required to submit diving license card so is Nitox SP. This day was no diving.
Sunday (1st day:Seiko maru, Fujikawa maru)
1st day! In the morning, 1st dive at Seiko maru. This day was windy, so first choice was Seiko maru but it's little deep for first dive.
After lunch, moved to Fujikawa maru. I had 2 dives including sunset dive. This time, I have dived into the engine room with only divemaster privately.
Monday (2nd day:Hoki maru, Yamagiri maru)
I have dived 2 times at Hoki maru until lunchtime. In 2nd dive, I went to the cargo hall which is with truck, then swim through floor where is filled up with beer bottle with only divemaster privately.
After lunch, 2 dives at Yamagiri maru. 1st dive was basic dive course, huge cannon shell, engine room. 2nd dive was sunset dive. We saw corals and fishes where from bow to stern.
Tuesday (3rd day:Fumitsuki, Shinkoku maru)
In the morning, 1st dive at Fumitsuki. I went to only wheel house because It's little deep.
Then, moved to Shinkoku maru. I had 3 dives here. First 2 dives, I went to engine room with only divemaster privately.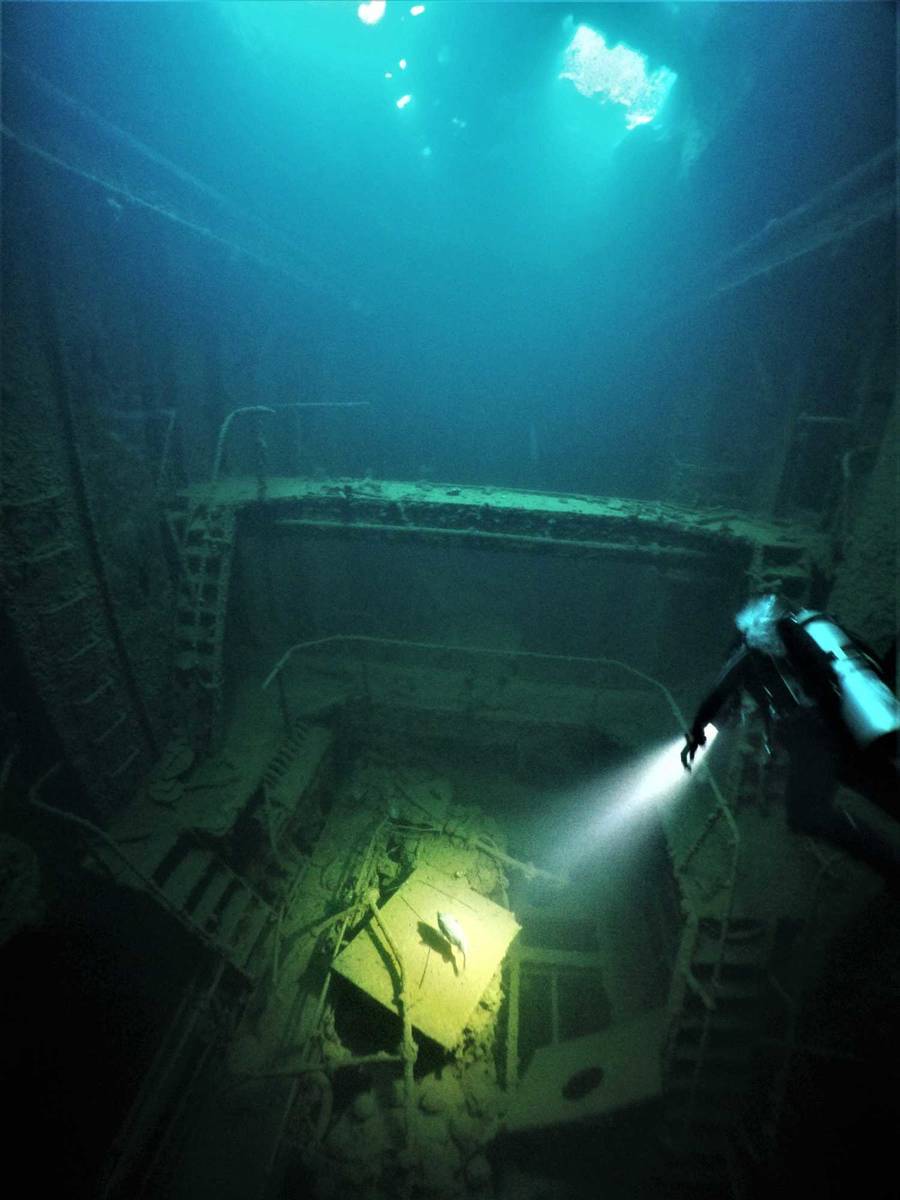 Nitrox makes me able to take a picture unhurry even such a deep depth at engine room of Shinkoku maru.
Some guests had night dive after dinner.
Wednesday (4th day:Nippo maru, Heian maru)
We had 2 dives at Nippo maru before lunch. I dived into to engine room with only divemaster privately. I was so excited because this was my first time to see engine room of Nippo maru.
In the afternoon, 1 dive at Heian maru. I penetrated in to the ship with US divemaster who likes Heian maru. We found some hand writing memo and Japanese soda's bin named Ramune. After exit, He asked me about this old bin. I told some Japanese topics. There are much stuffs which only Japanese can understand. It was my pleasure to talk with wreck dive lover.
Thursday (5th day:Amagisan maru, Gosei maru, Rio de janeiro maru)
In the morning, 1 dive at Amagisan maru. This wreck ship is deep, so I ascended before get over the NDL. We saw the Japanese car and bicycle.
Then, 2nd dive was at Gosei maru. It was unhurried shallow dive with a lionfish and goby.
Last dive on this day was at Rio de janeiro maru. I dived into a stateroom, hallway, engine room, galley with only divemaster privately.
We had short explanation about a questionnaire and gratuity.
Friday (6th day:San rancisco maru, Kensho maru)
Before lunch, deep dive at San Francisco maru with 24% Nitrox. The popular scene to see 3 tanks and 2 trucks.
Last dive with Odyssey was at Kensho maru. We were swimming from bow to stern and get into an engine room.
Saturday (Debark day)
In the morning, moved to Blue lagoon resort by small boat. Guests stayed here by 14:00 when pick up time to airport. Each guest was enjoyed SUP, snorkeling, kayaking, lunch at Blue lagoon restaurant, taking a nap. Finally, wreck dive week with Odyssey was finished at Airport.
Technical diving with Odyssey
If you're a technical diver, Odyssey is the best choice to dive in Truk lagoon. They require some conditions to technical diving, like a line cutting device, underwater slate, DAN insurance etc. Let' check their website.
https://www.trukodyssey.com/index.php/diving/technical-diving
Odyssey provides Tec diver a double tanks, oxygen for decompression stop of up to 100% at an additional charge so is Trimix, decompression tanks and so on. Experienced technical divemaster are waiting for you.
My review of dive with Odyssey
Actually, if I stayed at some hotel and dived with some diving shop on land in Truk lagoon, Odyssey is more expensive than it. However, all about Odyssey quality is higher than it.
Even though I have stayed at all hotel and used all restaurant and diving shop in Truk lagoon, I'm feeling Odyssey is the best accommodation, meal, and of course diving service. The diving briefing is definitely more detailed and knowledgeable than other diving shop, and divemasters are reliable.
I recommend Odyssey for wreck diver or technical diver even it's more expensive than the other service. Odyssey is worth to great journey of lifetime in world's best wreck diving destination, Truk lagoon.