The main hotel in Chuuk, Truk Lagoon is "Blue Lagoon Resort" also called it just "Blue Lagoon" or BLR by their acronym. These Informative TIPS were collected by me who living in Chuuk over 1 year.
For your information, I have dedicated to collect accuracy and exactly info but it is sometimes change because here is developing country.
What's Blue Lagoon Resort?
This hotel was used to Continental hotel owned by Continental Airline. In 1998, Blue Lagoon Diveshop have acquired and Blue Lagoon Resort have started.
Continental hotel Chuuk was started in 1970. So, some facility, accommodate, function, are aged, not clean, new, but this hotel has the greatest southern atmosphere in Truk Lagoon. It's cool. On the other hand, Blue Lagoon Diveshop have established in 1973.
Location
It is located most south part of main island "Weno" in Truk Lagoon where is takes approx 25 min from airport by car or bus. There are not any decent sightseeing sport around here even supermarket.
Room, Accommodation, Price, Rate
The rooms type are only 2, 52 standard rooms and 2 suite. The rate, price is deferent 1 pax or 2pax. Booking is available by only e-mail. Expedia or some OTA is not acceptable.
Standard room
The price is defer first floor and second.
First floor : $131.25 per 1 PAX 1 Night. For 2 PAX, $147. An extra bed is $57.75 in add.
Second floor : $136.5 per 1 PAX 1 Night. For 2 PAX, $152.25. An extra bed is $57.75 in add.
(*These rate was on Dec, 2018)
All rooms have twin bed, AC, fringe, electorical outlet, sink, shower, TV (not broadcasting), balcony. Shower is cold or hot depend on situation. Smoking is not allowed inside room, you can smoke outside balcony.
There is no electric kettle, you can get boiled water as free when you ask it to front desk or restaurant.
Between inside room on 1st and 2nd is not deferent totally but I prefer 2nd floor in my personality.  Because it is more cozy, Ceiling is high, nice view from balcony. You have to bring your heavy diving gear without elevator thought. Here is only upstairs.
Toiletry, Room amenities
Bath towel, hand towel, toilet paper, tissue, shampoo, conditioner, bady lotion, soap, hair dryer (almost them are not working well), grass cup, drinking water, hanger. These toiletaries are not set all exactly, if you need something or didn't set something, you can ask front desk.
Truk Lagoon is developing country that's why minimum toiletary. You must make sure to bring your teeth brush. It not include their toiletary, they are selling it.
Suite room
The rate is $210 at least. I don't reccomend it because it's almost same to Standard room.
Facility of Hotel
Front dest
Early morning to almost 24:00 is open.
You can see historical pictures that describe WW2.
It is available in only front dest, not in room, not fast connection.
They have paid service.
Kiosk, Store
Souvenir, snack, drink, beer, etc are available. Opening until around 8 or 9 PM.
Salon, Parlor
Oil body massage is $40. Hair cut is $10. All services are not bud.
VINS store
VINS store is only supermarket around Blue Lagoon Resort. It's small but enough, you can buy drink, snack, daily use goods cheaper than in hotel store.
Sometimes, they are selling a beer in backyard. You can ask it. When they have it, usually only Budweiser, least amount is 12 or 24 cans. But It's cheaper than hotel, of course. Close on Sunday. 
Deep down
Cheap and brief restaurant for local people where beside Blue Lagoon Diveshop. They don't have any sigh in outside you couldn't find it apparently. For instance, rice with fried chicken is $3. Close on Sunday.
Restaurant, Bar
They have one restaurant inside hotel. Opening hour is 6:30~10:00、11:00~14:00、18:00~22:00.also Sunday. You should order early when it's very busy, otherwise you have to wait over 1 hour sometimes.
I recommend Continental breackfast and American breackfast. It's cheap and free hot coffee that unlimited refill.

My favorite is Moen doughnut.
Lunch and Dinner are almost same menu. My favorite is Lapulapu (grouper) meuniere.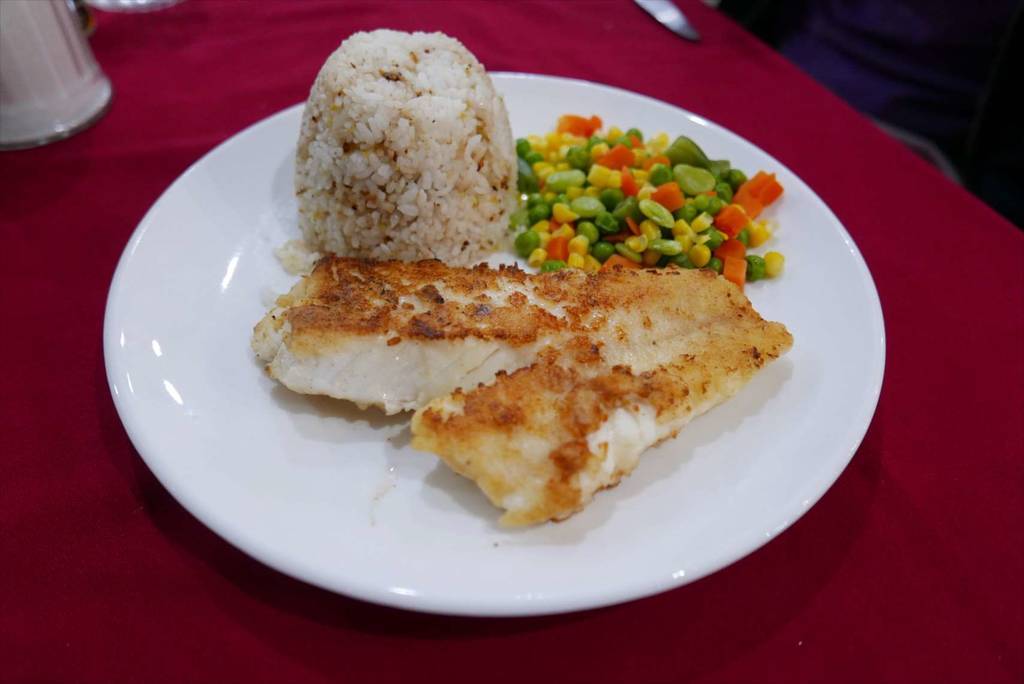 Sushi combo with Miso soup.
Sashimi (raw tuna) is scrumptious.
You can order refill of appetizer bread that is free. For desert, fried icecream is good.
In addition, You can enjoy their menu in outside. 
Bar
In the garden, there is bar. Open hour is flexible. If no customer, they close it in early time. Can beer is approx $5.
Breeze is nice. In sunny weather, sunset is also stunning.
They serve almost all basic alcohol drinks but sometimes they couldn't serve some cocktails without bass liqueur. If you are interested original cocktail named with Wreck ship, you can ask it to staff.
Playing billiard is $1.
Sightseeing, Activity
The area of Blue Lagoon Resort used to airport for float airplane in WW2. You can finf some relics of Japanese navy.
In western part, there is tiny beach.
The guest can use canoe and SUP (stand for Stand up paddle) as complimentary. When you use it, you should ask to front desk and you must get fin parts for SUP. Around hotel on the ocean is relatively culm. Drinking beer on the SUP in sunset time is awasome. 
Blue Lagoon Resort's garden is broad where you can enjoy take a walk.There is mosquito a little, if you worriy them, you should use mosquito repellent. Mad crab and flog are getting out from holes in garden after sunset.
On the beach side, hammock or beach chair are set.
From some place where away from room, restaurant, you can watch star. Tiny arbor is in eastern part, this is nice place to watch star with turning off light.
In low tide, sand bar is appearing. You feel cozy when you walk here.
Other TIPS
Blue Lagoon Resort is slow place but sometimes there is stealer. You must make sure locking door and Window on your room.
Every some hours, light is turn down suddenly. This is not stopping electoric power, just changing generator. After few minutes, it is back exactly.
Credit card is available in Blue Lagoon Resort and Blue Lagoon Diveshop.